Many people are forced to give up their beloved pets due to unforeseen circumstances changing their income or life, just when they need each other most.
AniMeals is our food pantry for the pets of individuals on limited incomes. 
We are currently helping more than 50 families and hundreds of animals every month. We feel that this service will help prevent these animals from becoming homeless, allowing us to care for other animals that might not have a chance otherwise.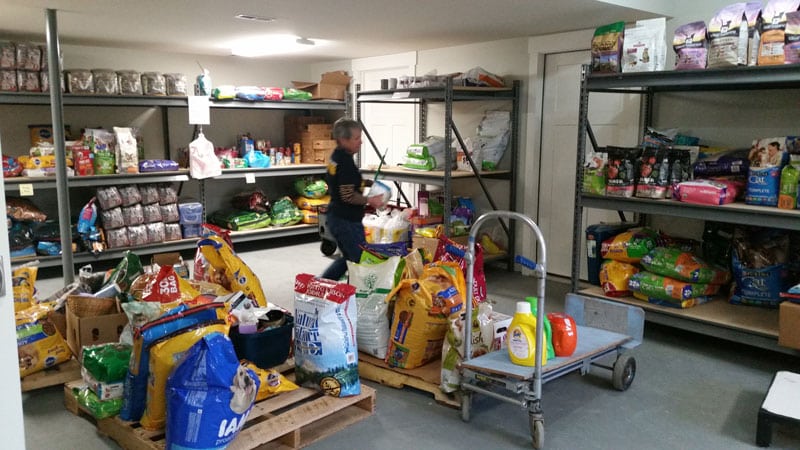 Who May Receive AniMeals?
Anyone with proof of need such as a letter from the Department of Family Services, a referral from a human food pantry or a letter from a church leader explaining the need will be accepted.
The program is meant to be supplemental, not necessarily a complete feeding program.
A maximum of 4 pets per household will be provided for each month with specific amounts of food allocated per cat and/or dog. Come to the shelter during the hours listed below with your letter, photo ID and vet record(s) indicating number of animals and their weight. Then our volunteers will get you enrolled in the program. We do require another letter of need after 6 months of being in the program to establish the continued need for assistance.
AniMeals is designed to be a short-term solution to financial or economic hardship. The program can only assist families for a maximum of 6 months. If you need an extension, please bring another letter of need to the AniMeals team.
This program is stocked entirely by donations, so please be understanding if specific types of food are not available.
When Five Acres receives donations of items that cannot be used for our animals or in our gift shop, especially food and litter, it is placed in our AniMeals program. Donations for the AniMeals program can be dropped off during business hours or placed directly in the donation bin outside our canine building.
We are frequently in need of:
Dry dog food (any brand, any size)
Dog treats
Canned dog food (any brand)
Dry cat food (any brand, any size though smaller bags are better)
Cat treats
Gently used pet supplies (leashes, bowls, toys, etc)
When are supplies available?
The AniMeals pantry is open on Saturdays 8 AM to 11 AM. We are closed on Holidays.