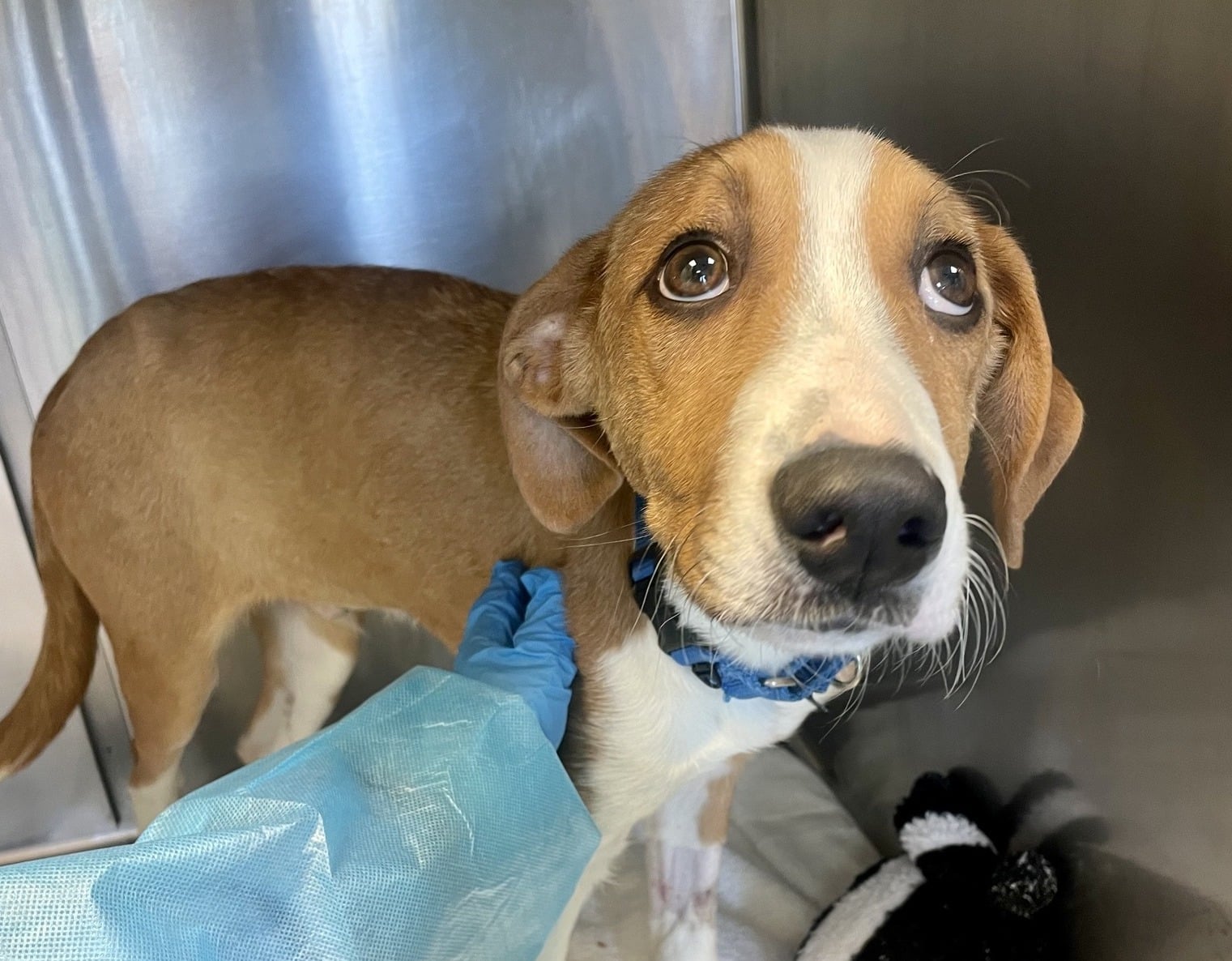 by Jeana Roth, Executive Director
Five Acres proudly teams up with shelters, rescues and animal control facilities across the state to help reduce unnecessary euthanasia. About once a week, we welcome a group of dogs or cats to our organization from this network of partners. We provide them the veterinary care and attention they need, until they find their forever homes in our community. We know that collaboration like this is key to saving lives in our state– and beyond.
At the beginning of February, our team welcomed four dogs from a transfer partner we work with in Sullivan, Missouri.
One very special puppy in this group from Sullivan was Wally, a 4-month-old mixed breed pup with the sweetest eyes. After a couple days at Five Acres, our team started to notice that Wally wasn't acting like a typical puppy. He was turning away his meals, and wasn't feeling playful and spunky. He was tired, sad, and uncomfortable.
After a quick medical test, we diagnosed Wally with canine parvovirus. For many puppies, this diagnosis can be deadly.
We rushed Wally to the Animal Emergency Clinic in O'Fallon, where he stayed for five days in intensive care. Daily fluids, medications, and a feeding tube proved to be the life-saving protocol he needed to conquer his illness.
Treating parvovirus is incredibly expensive. In Wally's case, it cost Five Acres $5,000 to provide him with this emergency care so that he could survive. This is only possible through donations to our Shadow's Fund– our medical fund that covers the expenses of urgent and emergency veterinary care. 
Donations to Shadow's Fund are at a critical need, as we look ahead to a busy kitten and puppy season. Please make a donation today to help us provide pets like Wally the care they need to survive.
In happy news– Wally is officially out of his quarantine period and is ready to finally be adopted into a loving family. Wally is our survivor, thanks to Shadow's Fund donors. Join this team of life savers with a donation now.
PS– Wally is anxiously awaiting families to adopt him! If you might be interested in giving Wally a home, please fill out an adoption application here!