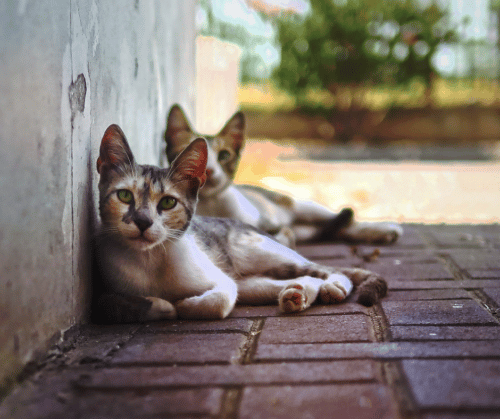 I Found a Stray Cat, What Do I Do?
Just this week I've had at least three calls from concerned citizens who want to help a stray cat, or cats, especially with the expected cold coming.
We all want to help animals stay safe especially if they are outside.  So, what should you do?
Food, water and shelter are the three most important needs that cat has.  If you can provide food and water, please do.  Nursing moms need kitten food, as do their kittens when old enough.  Avoid milk as that is hard for cats and kittens to digest.   
Shelter is somewhere safe that can help the cat escape the weather elements.  You can buy insulated feral cat houses or easily make one with a plastic tubs, a styrofoam cooler that fits just inside the plastic tub with a little room around for straw insulation, and straw.  A six inch square hole cut into the side allows the cat entry/exit.  Straw acts as an insulator from the weather and helps the cat stay warm. Stray  is placed below and around the styrofoam, inside the bottom and then on top between the styrofoam lid and the plastic tub lid.  You want to avoid blankets and towels which hold moisture and will freeze in the cold. Here is a link to instructions on how to build different shelters:
www.neighborhoodcats.org/how-to-tnr/colony-care/feral-cat-winter-shelter
If you cannot touch or interact with the cat, notice if the cat has an ear tip, meaning the tip of one ear is cut off.  This means the cat has been altered (spayed/neutered).  If the cat does not have an ear tip, consider working with a local trap/neuter/release program, like St. Louis Feral Cat Outreach, to alter the cat.  It is best not to trap on your own but work with an organization that can then take the cat, alter it and return it. See the references below. 
If you can touch the cat, it might be an owned pet and therefore an attempt to get it back to its owner is necessary.  You can have a cat scanned for a microchip at a vet, shelter or local pet store.  The chip may trace back to the current owner for easier return.  If the cat is not microchipped, talk to neighbors, post notices on social media, and contact local shelters to file a "found cat" report. If no luck after two weeks, you can work with a shelter or attempt to rehome the cat yourself through this link: rehome.adoptapet.com/list-a-pet/step-1
Here are some local resources that might be helpful:
St. Louis Feral Cat Outreach – stlouisferalcatourteach@gmail.com, or 314-669-5228. They also publish a list of rescues which may help in your area.
Operation Sterile Feral in St. Charles County – 314-995-9266.
This program take appointments for  a once a month clinic operation and is a partnership of the Pet Adoption Center, Metro Animal Resource service Inc and All Paws Rescue.